Have You Heard About Lakeridge Winery & Vineyards?
Move over California!
Central Florida is home to several great wineries that new residents of The Villages may not be aware of.
The best?
Lakeridge Winery & Vineyards.
Lakeridge Winery & Vineyards in Clermont is an ideal destination for wine lovers in The Villages, and it offers free tours every day of the week.
Yes, every day of the week.
Nestled in a 127-acre estate just 25 miles west of Orlando, you'll be greeted with breathtaking scenery that will make you want to stay forever!

Take a trip to the beautiful vineyards in Clermont and enjoy a complimentary 45-minute tour at this top-rated facility, which has won over 600 awards for excellence in winemaking.
You'll first see a brief video presentation of how the grapes grow in Florida, the winemaking process, and how they bottle and label their wine creations.
You'll also learn about the unique muscadine and hybrid grapes from a pioneer in the development of table and sparkling wines.
You'll get a behind-the-scenes look at the fermentation and bottling areas, which is a fascinating experience.
Take a romantic stroll through the lush vineyards, taking in the scenery where the grapes are grown and harvested.
Finally, the moment you've been waiting for has arrived: the opportunity to sample some of their best wine varieties in the extensive tasting room, from a selection of award-winning wines ranging from dry to sweet or sparkling.
Be careful at this point!
Sweet lovers will love the Blanc Du Bois Reserve, which has a crisp, intense fruit flavor, while those who prefer full-bodied wines will enjoy the Cabernet Sauvignon.
Pair the Southern Red with a dessert or cheese platter or toast the occasion with the sparkling Pink Crescendo.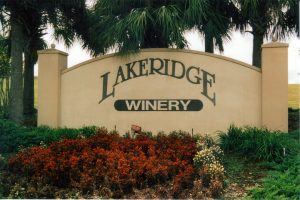 Your palate will be pleased with a sample of the range of mouthwatering wines produced here, providing the ideal backdrop for a day of relaxing on the winery's outdoor terrace overlooking the vineyards.
Keep up to date on what's going on at Lakeridge Winery & Vineyards, as they host a number of very popular events throughout the year.
Weekends at the Winery events, which include live entertainment, a food court, and a wine bar, are not to be missed.
The winery also has an on-site gift shop where you can buy your favorite Lakeridge wines as well as gourmet foods like olive oil, assorted cheeses, and gourmet sauces.
In addition, you will find wine accessories and other gifts for the ultimate wine lover in your life.
If you live or are visiting The Villages, you will want to make a day trip to Lakeridge Winery & Vineyards.
Check out our mobile golf cart repair service in The Villages Florida!