4 Reasons To Buy A Golf Cart
Golf carts are in high demand right now for a variety of reasons not only in The Villages but across the U.S.
Golf carts are increasingly being seen in a variety of places, and they aren't your typical golf carts. They offer unique designs, lift kits, stereos, and rear seats, among other things.
In other words, "tricked out".
The only limit to what your golf cart can become is your creativity. Golf carts, whether new or used, are like blank canvases for your preferences
So without further ado, let's check out 4 reasons to buy a golf cart even if you hate golf.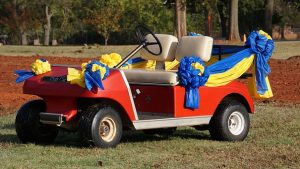 1. Off Roading Fun
Your favorite fishing spot is on your land, and the trail has become rather overgrown. Years ago, you used to drive your vehicle, but it's now too narrow.
It's time for the golf cart.
Add a raise kit and a utility bed to a golf cart and travel back with a cooler for a few hours of fishing. Having a golf cart that can navigate smaller areas can make enhance your enjoyment of the outdoors tremendously.
Learn more about electric golf cart problems.
2. Pure Enjoyment
Another great reason is simply it's fun.
This may be the most important reason of all.
The little things in life make life worth living, and while a golf cart won't change anyone's life, the memories around it might.
Take it to your campground and light up the neon lights under it or drive it through your residential neighborhood waving at your neighbors!
These are the moments that will last forever. If you have been thinking about getting a golf cart, there is no time better than the present!
3. Useful Tool
You thought having a mile-and-a-half long driveway and a huge yard was a fantastic idea many years ago.
It now appears that getting around and enjoying it is difficult. Having access to transportation allows you to accomplish things like yard chores, take out the trash, and ride through the fields.
There are golf cart trailer accessories or versions designed for heavy-duty applications with dump beds you can check out.
You can even add a plow or metal enclosure for serious work.
4. The Joys Of Street Legal
With the exception of most work commutes, your travels are likely to be short.
You may have friends in the neighborhood or shop at a nearby store.
You can get rid of your car if you have a street legal golf cart.
Get in your golf cart and drive up to the store using only a modest quantity of gas or a few minutes of electricity.
You can also use an enclosure to protect yourself from the elements. A little wind or light rain means nothing with an enclosure.
So there you have it; 4 reasons to buy a golf cart.
Learn more about our Villages golf cart repair service!
Did you know that Fairway Golf Car Mobile Services buys and sells used golf carts?  Call us today to learn more.