Have you visited Brownwood Paddock Square Yet?
Most people in Central Florida are familiar with Spanish Springs and Lake Sumter Landing Town Squares.
But there is a new kid on the block!
Brownwood Paddock Square is The Villages' third and final planned town square.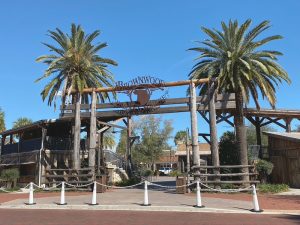 And it may be the most unique.
Brownwood, which debuted on October 12, 2012, is located in The Villages' southwest corner, west of Buena Vista Boulevard and north of County Road 44.
This area is not as developed as other areas of The Villages, which many believe is why the developer took so long to begin Brownwood.
But the development?  It is definitely coming.
Antrim Dells, a 500,000 square foot commercial development/shopping mall, will be built next to Brownwood.
Many people believe that because of Brownwood's location in a corner of The Villages, the access to major highways including Interstate 75, and the addition of a major shopping/commercial development, it will be more accessible to those who live outside of The Villages.
This is great news to visitors who wish to experience the fun of a town square but don't relish the difficulty of battling heavy traffic and huge crowds when trying to get there.
As with all of the town squares, Brownwood  has a theme.
This square harkens back to the previous century when wild cows roamed the Florida landscape, and the common profession was cowboy.  It really is a look back at what the state used to be…"Old Florida", in the form of a cattle ranch.
Brownwood Paddock Square will delight you with its welcoming atmosphere and charm. You can watch free nightly entertainment from the log cabin stage 365 days a year from the unique stadium seating.
Brownwood also hosts a number of events, including the weekly Farmers Market, holiday celebrations such as the annual Christmas Tree Lighting and Sleepy Holloween, and the Strawberry Festival.
You can also catch an inexpensive movie at one of the most comfortable theaters in Florida called the Barnstorm Theatre.
Some of the businesses you will find in Brownwood include:
Banner Mercantile
Tommy Bahama Royal Bee
Van Heusen
The Rustic Rose Fashion Boutique
World Of Beer
Gator's Dockside
Prima Italian Steakhouse
Scooples
Cody's Original Roadhouse
Mvp Athletic Club
Cal's Barber And Beauty
Brownwood Jewelers
Brownwood Jewelers' Boutique
Barnstorm Theater
Brownwood Paddock Square is a popular spot to gather with friends, shop, dine out or catch a movie.  Check it out today!
or drive to Lakeridge Winery & Vineyards.
Check out Fairway Golf Car Mobile Services for cart repair in The Villages!
Return to the homepage