Ready To Buy A Golf Cart?  Read These Golf Cart Safety Tips First!
Golf carts are no longer just for golfing. They're also a convenient way to get around retirement communities like The Villages.  Carts are also popular at campgrounds, gated communities, and more.
While driving a golf cart can be a lot of fun, it's important to remember that it's not a toy, and golf cart safety should be taken seriously.
Check out this post for some crucial golf cart safety tips to keep you and everyone around you safe.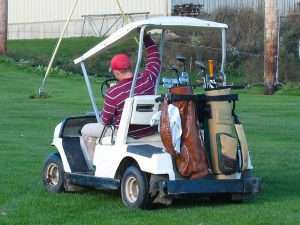 Only operate the vehicle from the driver's seat.
Except when the driver is signaling a turn, drivers and passengers should keep all body parts (arms, legs, feet, etc.) inside the cart while the vehicle is in motion.
Carry only the number of passengers for whom seats/seatbelts are available.
Never drive while intoxicated or high on any drug or narcotic.
Before making a turn, check for blind spots. When turning left, yield to the thru traffic lane and merge into it before turning left. Never turn left out of the golf cart lane.
Avoid distractions while driving the golf cart, just as you would in a car. Be cautious and alert. Do not talk, text, or read, reach for objects, put on makeup, or eat or drink.
Reduce your speed to compensate for adverse driving conditions, such as hills or other inclines or declines, blind corners, intersections, pedestrians, and inclement weather.
Never "joy ride" or drive recklessly. Drive with courtesy. Follow all vehicle traffic laws and road rules.
Seat belts should be provided for the driver and all passengers in golf carts. When the vehicle is in use, the driver and all occupants should use available seatbelts.
Always yield to pedestrians and keep an eye out for motor vehicles.
Before backing up, carefully turn and look behind the golf cart.
Allow no one to ride standing in the vehicle or on the vehicle's back platform. Do not start the vehicle until all passengers are safely seated inside.
Due to the small size and limited visibility of the turn signals available on a golf cart, always use hand signals to indicate your intent to turn.
Avoid making sharp turns at high speeds. To reduce the risk of passenger ejections and/or rollovers, drive straight up and down slopes. Avoid excessive speed, abrupt starts and stops, and sharp turns.
Never leave keys in a golf cart unattended. Before exiting the cart, make sure the parking brake is engaged.
Whether you're driving an electric cart or a gas cart on the golf course or street, safety should always be your first priority.
If you find yourself in need of golf cart repairs, new batteries or a great deal on a used cart, contact us today!
Check out, 4 Reasons To Buy A Golf Cart!   https://fairwaygolfservices.com/4-reasons-to-buy-a-golf-cart/