Have You Visited Lake Sumter Landing Town Square?
The consensus most popular town square in The Villages, Florida is Lake Sumter Landing.
This was the second square built and by far the most beautiful one.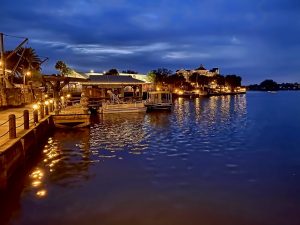 This town square is well-known for its tranquil waterfront location, which provides a soothing backdrop and a lovely setting.
There's always something interesting to do at this neighborhood hotspot, with year-round free nightly entertainment, quality shopping, restaurants, and more.
You can also take a boat tour to get a fresh perspective of the popular location and hear stories from the skipper about The Villages, Florida.
The picturesque lake features a walkway along its shore the length of the downtown area.  In addition, there is a functional dock which allows visitors to stroll out over the water where they can view wildlife, take in a sunset or just reflect on the natural beauty.
Some of the more popular businesses in Lake Sumter Landing include:
Old Mill Playhouse
Gar Vino's
Kitchen Collection
Arden's Find Jewelry
Van Heusen
Two Mermaids
Banner Mercantile
Charleston Shoe Co.
The Rug Gallery
The Purple Pig
Bravo Pizza
Johnny Rockets
City Fire
There are also plenty of special events held at Lake Sumter Landing including:
The Arts And Craft Show
The St. Patrick's Day Festival
 The Cinco De Mayo Fiesta!
And of course, residents enjoy nightly live entertainment and happy hour drinks 365 days a year!
This town square also offers a luxurious hotel smack dab in the middle of all the action, The Waterfront Hotel.
For fans of food, fun, and southern hospitality, the Waterfront Inn is one of Florida's best hotel locations.
It's the ideal location for getting away from it all… or for gathering everyone for a meeting or wedding.
You can do it all at The Waterfront Inn, which is just a block away from an eclectic mix of shopping and entertainment. Even if it just means seeing a spectacular sunset over Lake Sumter.
Take a stroll through this square at night and view the lights reflecting off the lake.  It will make you want to return again and again.
Lake Sumter Landing town square is a favorite for a reason.  Schedule a visit as soon as possible.  You will wonder why it took you so long!
Are you in need of mobile golf car repair in The Villages?
Return to the home page
Drive to Brownwood Paddock Square