Have You Checked Out The Spanish Springs Town Square?
The Spanish Springs Town Square is a unique feature of The Villages Florida. Spanish Springs, one of The Villages' three town squares, opened in 1994 and has a southwest flavor.
Spanish Springs resembles a classic plaza like one might see in Santa Fe, with adobe-colored stores encircling a central gathering space replete with viga-studded walls and a gazebo, with the addition of fountains and palm trees lending a Florida flair.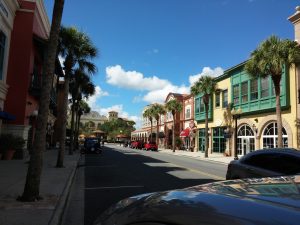 Main Street winds its way through the mixed-use commercial district, providing access to a variety of stores, restaurants, and offices.
Here are some of the restaurants, shops, and enterprises in Spanish Springs as of March 2022:
MVP Athletic Club
Tervis Tumbler
Banner Mercantile
The Corkscrew Winery
Sparks Jewelers
Gators' Dockside
Spanish Springs Lanes
World of Beer
Cal's Barber Shop
Margarita Republic
Panera Bread
Stretch Zone
While residents go to the square for offices, restaurants, and stores, vintage car enthusiasts assemble in Spanish Springs each month for their "cruise-in," and Villagers attend nightly live entertainment 365 nights a year.
From Cinco de Mayo through Halloween, Spanish Springs offers free entertainment every night, as well as parades and other events.
There is never a dull moment here.
The Rialto Theater was the first of The Villages' three movie cinemas. It was closed for restorations in early 2020, but then Covid struck, halting work. It has not reopened as of this writing which is concerning to those who frequent the town square.
Katie Belle's was another famous dining and entertainment facility in Spanish Springs. Unfortunately, it closed permanently in 2020, just a few years after the pandemic began.
For years, one of the most common concerns about the community's entertainment venues was that they were either too small or too old to attract some of the major events and entertainers.
That changed forever when Church on the Square, a cherished icon with approximately 770 seats, closed in late June 2013 for a substantial refurbishment and was renamed the Sharon L. Morse Performing Arts Center.
Most visitors believe the new building, which seats over 1,000 people comfortably, to be a state-of-the-art performing arts center and one of the finest facilities of its kind in Florida.
Spanish Springs Town Square offers opportunities to residents and visitors alike including dining, shopping, recreation, and of course nightly entertainment and the ever-popular drink shack.
Visit "The Square" today and discover what you have been missing.
Venture over to Lake Sumter Landing Town Square!
Check out our The Villages mobile golf cart repair page