Looking For A Guide To Golf Club Distances?
Golf is HUGE in The Villages.
And while some are occasional recreational hackers, many take the game seriously and want to hit the ball like the pros.
To play high-quality golf shots, you must be aware of your club distances.
The use of the incorrect club can unfortunately result in a much higher than necessary score from a well-struck shot.
Are you considered long or short when it comes to golf?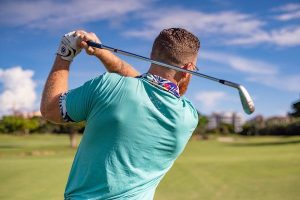 No matter the answer, it is imperative that you know how far you hit each club  in your bag.
But have you ever wondered how your shot distance compares to professional golfers or average women and men?
Let's take a look at average distance for men and women golfers and senior golfers in The Villages and compare that to professionals.  This will give you a rough estimate of how you fare with other retirees.
So, we will break the distances down by clubs to make it easier, starting with the longest clubs first.
Woods
The majority of golfers keep two to four woods in their bag. A driver and at least one fairway wood is the most common scenario.
Most players use a 3-wood, but some also use a 5-wood or a 7-wood..
Driver
The average distance for the driver is the best place to start.  This is the club that everyone wants to hit farther.
The majority of par 4s and par 5s require you to tee off using this club.
Average Distance:
| | |
| --- | --- |
| Professionals: | 300 yards |
| Men: | 230 yards |
| Women: | 170 yards |
| Villagers: | 195 yards |
Fairway Wood
Fairway woods are normally used for a second shot on a par 5 or to tee off on a short par 4.  The 3 wood is the most commonly used.
Average Distance:
| | |
| --- | --- |
| Professionals: | 265 yards |
| Men: | 220 yards |
| Women: | 150 yards |
| Villagers: | 175 yards |
Hybrid
Hybrid clubs are a combination of a fairway wood and an iron.  It is normally used by golfers who are more comfortable woods than irons.
Average Distance:
| | |
| --- | --- |
| Professionals: | 225 yards |
| Men: | 190 yards |
| Women: | 130 yards |
| Villagers: | 150 yards |
Irons
The clubs you use the most precisely are your irons.
If you want to make birdies and hit greens in regulation, you must choose the right iron.
4 Iron
A 4 iron can travel a great distance due to the long shaft.  It also produces a low-ball flight that allows for extra yardage on the roll.
Average Distance:
| | |
| --- | --- |
| Professionals: | 220 yards |
| Men: | 170 yards |
| Women: | 120 yards |
| Villagers: | 135 yards |
5 Iron
The 5 iron is a very adaptable golf club that may be used from the fairway or deep rough. Consider it more like a mid-range iron that can provide distance and height to land softly on the green.
Average Distance:
| | |
| --- | --- |
| Professionals: | 210 yards |
| Men: | 160 yards |
| Women: | 110 yards |
| Villagers: | 125 yards |
6 Iron
The 6 iron provides more loft than the 5, however it doesn't deliver as much distance.
Average Distance:
| | |
| --- | --- |
| Professionals: | 205 yards |
| Men: | 150 yards |
| Women: | 100 yards |
| Villagers: | 115 yards |
7 Iron
Most golfers agree that the 7 iron is the easiest to hit and quickly becomes the favorite club in the back for many people.
Average Distance:
| | |
| --- | --- |
| Professionals: | 190 yards |
| Men: | 140 yards |
| Women: | 90 yards |
| Villagers: | 105 yards |
8 Iron
The 8 iron is another favorite as it allows for tremendous height on approach shots and is often used for chipping as well.
Average Distance:
| | |
| --- | --- |
| Professionals: | 180 yards |
| Men: | 130 yards |
| Women: | 80 yards |
| Villagers: | 95 yards |
9 Iron
The highest loft of any of your irons will be the 9 iron.  When you need to get over a tree, this is the solution.
Average Distance:
| | |
| --- | --- |
| Professionals: | 170 yards |
| Men: | 120 yards |
| Women: | 70 yards |
| Villagers: | 85 yards |
Wedge
Many golfers in The Villages keep 4 wedges in the bag, pitching, gap, sand, and lob.  In this post, we will be using the pitching wedge for our average distances.
Average Distance:
| | |
| --- | --- |
| Professionals: | 150 yards |
| Men: | 105 yards |
| Women: | 60 yards |
| Villagers: | 75 yards |
What determines the distance on your golf shots?
Golf club distance is influenced by a number of variables. These are the leading four.
Loft: The loft of the club is the most crucial element.
Your driver only has a loft of 10 degrees, whereas your lob wedge has a loft of 60 or more. This explains why a driver can travel more than 250 yards, but a lob wedge will only go 75 yards.
To give you options on the course, golf clubs are made with various lofts. Selecting the appropriate club (loft) for the shot you must play is the objective.
The loft of the club is unaffected by your golf swing, but the speed at which you swing the club affects the distance your ball will go.
Swing Speed: A PGA professional can hit a driver 300 yards, whereas you can only hit the same club 230 yards. The main difference between the two is swing speed.
Swing speed is a key aspect in this equation, along with consistent, firm contact.
Weather: The average distance of your clubs can be considerably altered by the weather.
Golf club distance can be significantly increased or decreased depending on the wind.
Rain will also shorten your distance. The temperature is the last weather component you need to think about.
Warm weather will allow your shots to travel further than chilly weather.
Elevation
Your average golf club distances will vary depending on where you play.
Playing golf on a course at sea level is far less effective than playing it while in the Colorado Rockies. You should take into account all of these considerations when looking at your distances playing on a course in The Villages.
Tips To Learn Your Distances
Knowing how far each club in your bag will travel is vital when trying to improve your golf game.
Here are a few suggestions to help:
Practice using your clubs on a driving range
The driving range is where you should practice your club distances.
It's the most secure technique to conduct research.
Choose a target on the range (most driving ranges have greens and flags for targets), calculate the distance to the target, then hit shots at until you find the ideal club.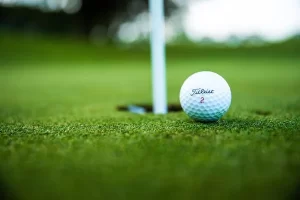 Repeat the process with a different target. Your understanding of your club distances will dramatically improve on the first visit.
Practice adjusting your club distances as necessary.
Once you figure out how far each club will go, begin experimenting with a "full" swing, and an "easy" swing.  This will come in handy when you are in between club distance.
Recheck Your Numbers Occasionally
As you get older, your golf swing evolves. Villagers lose strength, suffer injuries, etc. as they continue to play the game they love.
Every three months or so, you should double-check the distances of your clubs.  Do not be ashamed if you have lost yardage, just use that knowledge to improve your game.
The Truth About Golf Club Distance
While it would be great to drive the ball 300 yards, that is not really what you should aspire too.
Too many golfers believe that the greatest approach to get better is to swing more forcefully and hit the ball farther, yet long & incorrect merely makes more shots fly out of bounds.
Consistency with your clubs, not distance, is the key to playing outstanding golf.
Does it matter which club you hit or who hits it closer to the hole if you and your opponent are playing in a competition and have an approach shot from 150 yards out? You will win the hole if you hit a 6-iron to within five feet of the pin while your opponent smashes an 8-iron into a sand trap.
Get to the range today and begin understanding your club distances.
And watch your game begin to improve immediately.
Fairway Golf Car Mobile Services provides mobile golf cart repair at low prices, used golf cart sales, and battery sales.  Contact us today!