Do You Need  To Purchase New Golf Cart Batteries In The Villages?
Residents of The Villages, Florida utilize golf carts more than cars.
Most can't do without their beloved cart and will do anything to keep them looking good and running well.
But what about golf cart batteries?  Where do you get them?  How expensive are they?  And how long do they last?
Keep reading.
If your golf cart is electric, you're well aware that the batteries are very important.
Because golf cart batteries can be costly, they are the thing that our electric cart customers who buy a used cart from us are most concerned about.
But Like anything else, knowledge is power.  The more you know about golf cart batteries, the easier it is to make an informed purchase when it is time to replace your old batteries.
Customers frequently ask if electric carts are more expensive to own and maintain than gas carts.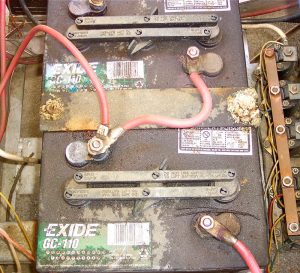 No, is the quick response.
When we compare the cost of batteries for an electric cart over the course of their lives, to the cost of filling up with gas (especially) these days and maintaining a gas-powered cart, the expenses are surprisingly similar.
Electric golf carts have several advantages also, including the fact that they are noiseless (essential for use at many country clubs), that they deliver instant torque, that they do not require the replacement of gasoline, oil, or fuel filters, and that they do not smell (great for indoor facility use).
What Golf Cart Batteries Are The Best?
Trojan Golf Cart Batteries is the industry standard brand for lead-acid golf cart batteries.
Trojan batteries are used in all Club Car, EZGO, and Yamaha golf carts right out of the box!
These OEM cart brands have tried and tested battery types from every battery manufacturer on the market, and they consistently chose Trojan.
Trojan Battery Company, situated in the United States, was founded in 1925 and has grown to become the world's top manufacturer of deep-cycle Solar and Motive batteries.
Trojan has impacted the world of deep-cycle battery technology with a wide choice of flooded, AGM, Gel, and lithium batteries, as well as nearly a century of manufacturing experience.
However, there is a new kid on the block
Lithium Golf Cart Batteries are becoming very popular in The Villages. Allied Lithium, Relion, ROYPOW, and Samsung are the best Lithium-Ion golf cart battery brands.
Lithium Golf Cart Batteries have seen the most rapid growth in the golf cart battery industry in recent years.
This is evident by the fact that Lithium-ion Batteries are now standard on practically all EZ-GO and Club Car carts.
Lithium is now considered to be the best power solution for golf carts, and it is quite possible that in the near future, all carts will be powered by lithium batteries.
Lithium batteries for golf carts are not the same as those used in cell phones and other small gadgets.
The Lithium Iron Phosphate (LiFeO4) batteries used in golf carts are one of the most reliable and long-lasting on the market.
Fairway Golf Car Mobile Services is a certified golf cart battery dealer in The Villages and can offer you lower rates than you will find elsewhere on Lead-Acid batteries and Lithium batteries.
How Long Do Golf Cart Batteries Last?
This is a question we get a lot at Fairway Golf Car Mobile Services. Unfortunately, it is impossible to give a definitive answer to.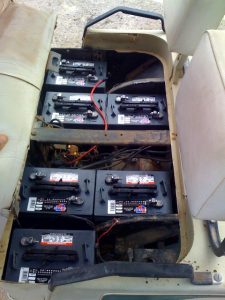 So the safe answer is, "it depends on how you take care of them".
Deep cycle battery packs, require some basic maintenance, such as checking and filling proper water levels and ensuring that the battery pack is always completely charged and never depleted (plugging it in after each use or a round of golf).
Aside from maintenance measures, usage is the next most important aspect that affects the life of your golf cart batteries.
In comparison to a golf cart owned by a private user, battery packs in golf course fleet applications are used much more frequently.
During peak seasons, fleet carts are used for 2-3 rounds of golf per day, whereas private carts are used for 3-5 rounds per week (sometimes more depending on the number of golfers using the cart).
All things considered, well maintained battery packs in fleet carts typically last 4-6 years, whereas individual owners often get 6-10 years out of theirs.
The sort of options on the cart that may enhance the draw from the battery pack are also important considerations. Options like headlights and taillights can have a significant impact on the overall life span.
If you reside in a golf course community like The Villages and drive to and from the golf course, this has a significant impact on the battery pack.
The age of your Trojan deep cycle battery can always be determined by glancing at the two digits on the negative post of the battery.
The letter denotes the month of manufacture (A=January, B=February, C=March…), whereas the number denotes the year of manufacture (9=2009, 0=2010, 1=2011…).
How Much Do Golf Cart Batteries Cost?
The average cost of a golf cart battery replacement will be between $800 and $1,500.
It could possibly be in the $2,000 range, depending on the type of battery used, because strong golf carts like a 72V require more expensive batteries.
If you're still on the fence about buying an electric golf cart, here is something to think about.
The cost of golf cart batteries is not prohibitively high, but the cost of having them installed at a local golf cart service center may be.
Installing your battery on your own can be difficult due to the fact that batteries can be rather hefty.
As a result, keep in mind that Fairway Golf Car Mobile Services will deliver and install!  You can relax knowing we handle everything.
Where Can I Buy A Golf Cart Battery?
Simple.
Call Fairway Golf Car Mobile Services at 352-571-3100 or visit our website to purchase your new golf cart batteries today!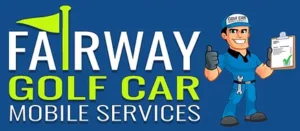 FAIRWAY GOLF CART BATTERY PRICE LIST*
TROJAN BATTERIES (FULL 2-YEAR WARRANTY)
T605      $995.00
T105       $1125.00
*(INCLUDES FLORIDA SALES TAX AND CORE SWAP) ADD $25 PER BATTERY THAT DOES NOT HAVE A CORE
Related Articles
How Do I Know It's Time To Get New Golf Cart Batteries?
How Long Does A Golf Cart Battery Last?