Selling Your Golf Cart?
It's finally time.
You are ready to sell your golf cart.  But how do you get the highest price possible and ensure you are not being cheated?
Whether you're looking for a newer model or find yourself short of cash, selling your golf cart can be profitable.
However, as with most things that involve money, you will want to approach this process with a concrete strategy to maximize your sale and ensure a smooth transaction.
In this comprehensive guide, we'll walk you through the steps you will need to take including preparing your cart, pricing, advertising, and selling for the highest amount possible.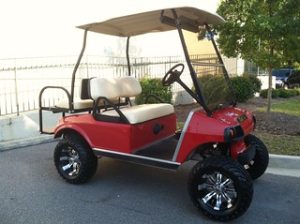 We will cover everything you need to know, so rest easy knowing you will never be taken advantage of.
So, if you are ready to make that sale, let's dive in.
Preparing Your Golf Cart for Sale
The first step in the selling process is to prepare your cart for sale.
But what does this mean?
Simply this: You must ensure that the cart is in the best condition possible.
It doesn't matter if you are using the cart regularly or it has been sitting in your garage for two years, taking time to prepare your cart for sale will always make a difference in the price point you and a buyer will agree on.
Do golf carts hold their value?  Click to find out.
Cleaning and Detailing Your Golf Cart
When it comes to selling your golf cart, first impressions are everything.
Not only will a clean and waxed cart make it more attractive to potential buyers, but it can also make a huge difference in the price someone is willing to pay.
To get started, give your golf cart a thorough wash with soap and water. Use a soft cloth or sponge to avoid scratching the paint or damaging any delicate parts.
Make sure you don't forget the wheels, tires, and rims.  They attract more dirt than any other part of the cart when used regularly.
Once your cart is clean, you are ready for the detailing.
This involves going over your cart with a fine-tooth comb to ensure every nook and cranny is clean and polished.
Start the process by wiping down the seats with a mild cleaner, such as soapy water or a leather/vinyl cleaner.
Next, take care of any scratches or scuffs on the cart body of your cart.
If the damage is minor, it may be possible to buff it out with a polishing compound.
For more serious damage, you may need to touch up the paint or get it professionally repaired.
Finally, don't forget the finishing touches. This includes polishing any chrome or metal parts, shining up the windshield, and cleaning the mirrors and headlights. A well-detailed golf cart will look its best and make a great first impression on potential buyers.
Taking the time to clean and detail your golf cart before putting it up for sale is essential for getting the best possible price and attracting potential buyers. Try following this strategy to showcase your cart to the buyer.
Making Repairs and Replacements
When selling your golf cart, it is imperative that it is in stellar condition and ready to impress. This means immediately making any necessary repairs and/or replacements.
The first thing you will need to do is a complete inspection of the cart.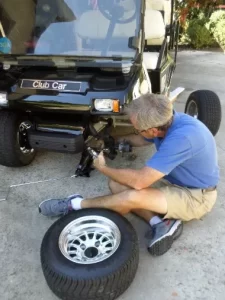 Look for any signs of damage, wear and tear, or broken components. Pay attention to the battery, tires, brakes, and suspension, as these are some of the most critical components of the cart.
If you notice any issues, it's essential to address them before putting your golf cart on the market. This not only improves the cart's appearance and performance but can also increase its resale value.
If your cart's battery is approaching the end of its lifespan or is showing signs of wear, consider replacing it. A new battery can significantly improve the performance of the golf cart and make it more appealing to potential buyers. Plus, it's a relatively inexpensive fix that can increase the value of the cart by several hundred dollars.
Tires are another essential component of a golf cart that can significantly impact its value and appeal to buyers. Make sure the tires have sufficient tread and are free of cracks or other signs of damage. If they need to be replaced, consider investing in high-quality tires that are designed for golf carts.
Brakes and suspension are also critical components of a golf cart that potential buyers will want to inspect. Make sure they are in good condition and free of any unusual noises or vibrations. If there are any issues, consider having them professionally repaired to ensure the cart is safe and roadworthy.
Finally, take a look at the cart's exterior and interior. Are there any dents, scratches, or other damage? If so, consider having them repaired or at least touched up to improve the cart's appearance. A clean and well-maintained golf cart is much more appealing to potential buyers than one that looks beat up or neglected.
Gathering Necessary Documentation and Paperwork
Selling your golf cart isn't just about cleaning and repairing it.
You also need to gather all the necessary documentation and paperwork to ensure a smooth and legal transaction.
This is vital for both you and the buyer.
Start by gathering your original purchase documents, such as the bill of sale and warranty information. You'll also need to provide the buyer with any maintenance records or service history for your golf cart. This helps establish the cart's value and provides the buyer with confidence that they're making a sound investment.
In addition, you will need to find your title and registration to provide to the buyer.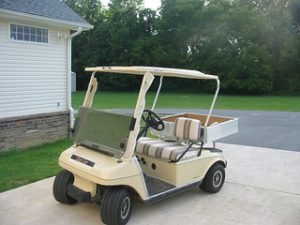 Make sure your documents are correct and up to date.  Any errors in your paperwork could possibly delay or even negate the sale.
Your local DMV can provide you with a comprehensive list of required documents and help you navigate the legal requirements of selling your golf cart.
In conclusion, gathering all the necessary documentation and paperwork is an essential step in selling your golf cart. Guarantee yourself a smooth and easy transaction by following this tip.
Setting a Price for Your Golf Cart
Selling your golf cart can be a fund and profitable experience, but one of the biggest challenges is deciding on the right price.
Setting the correct price is essential for attracting potential buyers and ensuring that you get a fair offer for your cart.
But how is that done?
In this section, we'll explore some strategies and tips for setting a price for your golf cart.
We'll take a quick look at some factors that can influence the value, including age, condition, and brand.
We'll also discuss two different pricing strategies, including setting a fixed price or utilizing an auction.
So, let's dive in and discover the secret to setting the best price for your golf cart.
The number one factor in determining a fair price for your cart will always be…the condition of the cart.
It goes without saying that the better the condition, the higher price you will get.
As stated previously, always clean and detail your cart thoroughly, as this can make a significant difference in its perceived value.
Another important element to consider is the age of your golf cart.
As with most vehicles, the older it is, the lower its value tends to be.
However, this doesn't mean that an older cart can't be valuable. If your cart has been well-maintained and has low mileage, you can still command a competitive price.
Brand is also an important factor to consider when pricing your golf cart as many people are searching for a particular cart style.
Certain brands, such as Yamaha or Club Car, are often considered more valuable and can command a higher price than other brands.
When it comes to pricing your cart, there are two strategies you can utilize.
The most common strategy is to set a fixed price for your cart. This is the best option if you have a good sense of the cart's value and are confident in the asking price.
An alternative is to use an auction sale such as those you find on eBay.  This method has many benefits such as creating competition between potential buyers.
Researching the Market and Comparable Listings
To get the best price for your golf cart, it is vital to research the current market and check for comparable listings in your immediate area.
Begin the process by searching for listings of golf carts similar to yours in the area.  Make sure you pay attention to factors such as age of cart, condition, battery age, and other additional features.
In addition, check out online marketplaces such as Facebook to compare how similar carts are priced and how they are being marketed. This will give you the ability to identify trends and pricing strategies.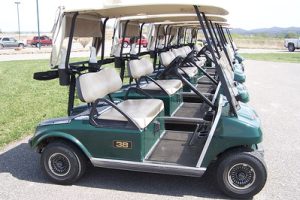 Keep in mind that the market can fluctuate based on seasonality and demand, so it's important to stay up to date with current market conditions.
Once you have gathered enough data, you can use it to determine a fair and competitive price for your golf cart.
Reminder: Don't be afraid to adjust your price if you're not getting the interest you want, or if you're seeing similar carts sell for more or less than you originally anticipated.
By taking the time to research the market and comparable listings, you will have the confidence needed to set a fair price for your cart and dramatically increase your chances of a successful sale.
Considering Negotiation Room
But what about the dreaded; "negotiations"?
Before selling, you should always have an idea of how much wiggle room you have on the price. Pretty much every potential buyer is going to want to negotiate a lower price.
So be ready.
The best way to prepare for haggling is to price your golf cart slightly higher than the rock-bottom acceptable price.  This will give you a slight cushion to negotiate with.
Another way to leave room for negotiation is to throw in some extras or accessories with the sale. This can be a great bargaining tool that can help you close the deal while still getting the price you want.
And just how badly do you need to sell?
If you're in a hurry to make a sale, you may need to be more flexible with your price and negotiations.
Ultimately, the key to successful negotiations is to be open and flexible while still maintaining a firm grasp on your bottom line. With these tips in mind, you can negotiate with confidence and dramatically increase your chances of a successful sale.
Advertising and Marketing Your Golf Cart
Okay, so you have gotten your golf cart ready to sell, researched and set a price, and given yourself some negotiation room.  What now?
Well, it is time to advertise and market your amazing deal to potential buyers.
Showcasing your carts best features and promoting them will help you find the perfect buyer so you can close the deal.
The first step is to create a compelling ad that highlights your golf cart's key features and benefits.
Examples include age, condition, and upgrades you may have.
The secret to this ad will be using plenty of high-quality pictures that  showcase your cart from multiple angles.
So, where do you place this ad?
The best options will be classified websites such as Craigslist or Facebook Marketplace.  There are also plenty other websites that specialize in selling golf carts.
But don't forget social media.
Share your ad on your personal Facebook page and ask friends and family to share it as well. There are a ton of golf cart groups on Facebook that you can join and find potential buyers.
Finally, you can actually take the golf cart to the local golf course with a for sale sign on it and show it off in person.
Whatever marketing tactics you choose, remember to stay accessible to possible buyers and be ready to answer a plethora of questions.  .
Showing Your Golf Cart
The ad has worked, and now potential buyers are showing up to take a look at your golf cart.
This is your opportunity to showcase how great your cart is and convince buyers that it's worth the investment. However, showing your golf cart to buyers can be a bit nerve-wracking, especially if you're not sure what to expect.
Let's find out how to do it.
Conducting Test Drives and Demonstrations
Once the word is out and you have potential buyers wanting to see your cart, it's time to prepare for demonstrations and test drives.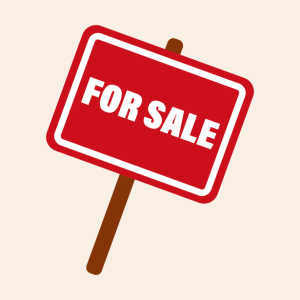 Before starting this process, however, make sure to do one last check and ensure that everything is working properly.
The most important thing to keep in mind is to always be friendly and informative while not hovering over the buyer and allowing them to explore the cart on their own.
Encourage the potential buyer to take the cart for a spin, but also be sure to establish clear boundaries for the test drive, such as where they can and cannot go and how long the test drive will last.
When the test drive is over, be sure to say thank you to the potential buyer for their time and answer any final questions they may have.
If necessary, follow up with the buyer to gauge their interest and continue to build the buyer-seller relationship.
By conducting effective test drives and demonstrations, you can assure yourself of a successful sale and a happy customer
Closing the Sale and Transfer of Ownership
Congratulations!
You received an offer for your golf cart and have accepted.  It is now time to close the sale and transfer ownership.
There are a couple of simple steps here including completing any necessary paperwork, and handing over the keys to the new owner.
Once you've agreed on a final price, it's time to complete the paperwork and transfer ownership. Ensure that all necessary documents are in order, including the title and bill of sale, and double-check that all information is accurate.
When handing over the keys and title, take the time to walk the new owner through any important features or functions of the cart and answer any last-minute questions they may have.
That's it.  Congratulations on a successful sale!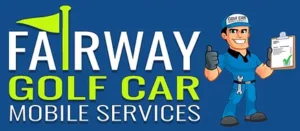 If you are ready to sell your golf cart, give the professionals at Fairway Golf Car Mobile Services a call and get the highest price possible.