Ready For The List Of Top 10 Considerations When Buying A Used Golf Cart?
Your bank account will definitely thank you if you purchase a used golf cart instead of a new one.
But if you don't know what you're doing, it can be challenging to determine the condition of a secondhand golf cart. You don't want to spend a lot of money on a used cart only to end up spending more money on repairs than a new one would have cost.
Check out this this list of 10 considerations when buying a used golf cart: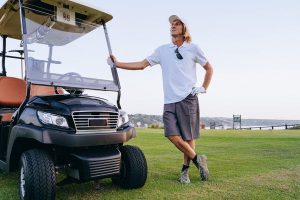 1. How Old Is The Golf Cart, Exactly?
Many vintage golf carts from the 1980s and 1990s continue to function just as well as more recent versions. The fact that the cart is ancient does not always preclude your purchase of it.
However, keep in mind that spare parts for earlier models will be more difficult to locate. You might have trouble locating the parts or a qualified repairman if your cart needs repairs after you purchase it.
Older and secondhand golf carts are more likely to require repairs than newer ones due to their age.
2. Is The Golf Cart Brand-New Or Reconditioned?
A secondhand golf cart that has recently undergone renovations is called a refurbished golf cart. A used golf cart is one that has been driven for a while and is being sold "as is."
Make certain that a certified dealer performed the reconditioning themselves if you're looking at a restored golf cart. Some individuals call their golf cart a refurbished golf cart after giving it a new coat of paint and some new tires. However, the batteries, controller, bearings, and motor are all exactly the same as previously.
Try to purchase these carts from the official dealer for that make and model to avoid paying extra money for a "refurbished" cart that hasn't actually been improved. If not, you can get a golf cart that requires a lot more repairs afterward.
3. Is It an Electric or Gas Golf Cart?
Electric and gas-powered golf carts are the two main categories. Every one of these carts has a unique mix of benefits and drawbacks, so do your homework and choose the one that best suits your requirements.
For instance, a gas-powered cart can move more quickly than an electric cart. However, if you purchase a gas-powered cart, you must be prepared to perform the necessary routine maintenance.
Electric golf carts don't need a lot of maintenance, but a battery charger is a need. You must ensure that the batteries in a used golf cart are still functional because they have a limited lifespan.
4. Are The Batteries In Good Condition If It's Electric?
When purchasing an electric golf cart, the battery pack's condition is the most crucial factor to consider. Find out if your purchase comes with a manufacturer's guarantee as well.
Spend some time looking into the dependability of the manufacturer if a warranty is offered. Golf cart batteries are most frequently produced by US Battery, Crown, Trojan, and Interstate. The repute of each additional battery manufacturer should be verified.
Additionally, you ought to ascertain how old the batteries are. Batteries that are fresh, clean, and corrosion-free should continue to function for many more years. If the batteries are older than five years, have corrosion on them, or have sides that are protruding,
5. How well-maintained are the tires?
Tires may be easily replaced, but you should make sure they are in excellent enough condition to last at least a year. If a tire has deep treads and no obvious damage, it is likely in good shape. Make sure the tires are properly filled and that they can hold the air once it is inside.
6. How Is The Golf Cart Operated?
A test drive should always be conducted before purchasing a used golf cart. Pay attention to how smoothly the cart moves during this drive. Any unusual sounds, such as clicking, grinding, or whining, should be avoided. The travel ought to be peaceful and comfortable. Any unusual noises could indicate the cart has serious damage.
Learn more about Golf Cart Safety.
7. Who Makes the Cart?
You'll find it easier in the long run to purchase a used golf cart made by a respected business. You may rest assured that you will be able to locate the parts you require if your cart ever needs maintenance. Should things go wrong with your cart, you'll have a wider range of options to select from.
8.Is There Any Physical Damage?
The golf cart may have obvious body damage because it has been utilized. Rust, faded paint, scratches, and dents are minor flaws that do not jeopardize the integrity of the cart. Even though you might want to take those considerations into account, they don't constitute justification for retreat.
These items can be fixed for a reasonable price.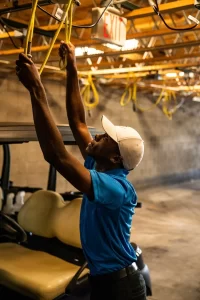 But be on the lookout for missing panels or more significant damage. Purchasing an old golf cart that will need tons of money to fix is frequently not worth it.
9.What Features Do You Need?
Your golf cart may require particular features depending on what you intend to use it for. You'll require different features for driving your cart around a golf course than you would for riding it around your gated community.
10. Is the Asking Price Fair?
Make sure the price you pay for your used golf cart is reasonable. Find out the market rates for golf carts in your area by doing some research. You can bargain the price with the seller after you are aware of how much comparable used golf carts sell for.
You may save a lot of money on a used golf cart as long as you shop around. Make that the cart is in good condition, has the features you require, and is still functional. Additionally, make sure you ask a ton of questions. The most crucial element of purchasing a used golf cart is that.
Do you want to know where to purchase used golf carts in The Villages?
Call Fairway Golf Car Mobile Services today at  352-571-3100 or learn more at https://fairwaygolfservices.com/golf-carts-for-sale-the-villages/