Are Used Electric Golf Carts A Good Investment?
You're ready to buy a new golf cart.
The good news is that there are plenty of options for first-time buyers as well as resellers.
So, how do you begin?
A brand-new, gleaming golf cart is a status symbol in The Villages. But with so many options, it can be confusing.
When the dust settles, you want the best golf cart that you can afford. You also want a long-lasting investment that looks well and functions well. You also need to think about safety.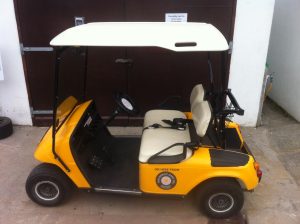 How can you tell whether an electric used golf cart is superior to a brand-new one?
Here are the top five benefits of secondhand electric golf carts.
1. Gas Versus Electricity
Choosing between a gas and an electric cart is your first option. Why is this crucial?
Although it depends on personal preference, there are a few elements to take into account.
Noise
Compared to a gas golf cart, an electric one is quieter.
Older types of used gas golf carts are noisy if you're choosing one.
It's crucial to maintain silence on the golf course and in your neighborhood's streets. For less noise, pick a used electric cart.
Maintenance
Compared to a gas golf cart, an electric one requires less upkeep. This is significant while deciding between a used and a new cart.
Golf carts need more upkeep as they get older to keep them functioning properly.
More advantages of an electric cart
No oil changes
Fewer parts that need replacing (no belts or spark plugs)
Fewer moving parts than a petrol cart means fewer repairs.
Zero fuel costs
The ideal golf cart option is electric because there are fewer parts that can degrade over time.
2. Easier On Your Wallet
With fewer repairs, a used electric golf cart will cost less over time than a gas cart.
Additionally, you'll spend less on your original buy.
Gas or electric, brand-new golf carts can cost thousands of dollars more than secondhand golf carts. And the majority of brand-new carts simply include basic parts.
An out-of-the-box golf cart will cost more, but you'll also have to spend more money to customize it to your tastes.
4. Someone Else Upgraded
A used golf cart is one that has been owned previously by another party.
These golf carts frequently have enhancements that are not present in a brand-new standard golf cart.
Before switching to a new cart of their own, the original owners upgrade the cart with better tires and other extras.
Their labor is a bonus for you.
When selecting a used electric golf cart, take advantage of extra features while staying inside your price range.
Check out Do you need insurance for a golf cart in Florida?
5. Getting More Value
When selecting an electric golf cart, there are various battery alternatives.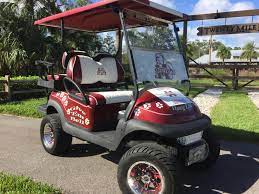 Your budget could only allow for a smaller 36-volt battery if you are just considering new golf carts. A 36 volt battery golf cart has many benefits, but you might need more power.
New 48-volt batteries might be too expensive to upgrade.
A used 48-volt electric golf cart, however, will provide you additional choices in your price range. Additionally, choosing a used golf cart doesn't have to compromise on quality.
The three leading brands outlast the other several golf cart manufacturers in terms of durability. They are EZ-GO, Club Car, and Yamaha.
Check out this article:  Golf Cart Repairs – Can I Do It Myself?   
New carts from these producers are frequently more expensive than those from other companies.
Look for secondhand golf carts like EZ-GO, Club Car, and Yamaha. These types are guaranteed to be high quality models.
Off-brand carts are not always a bad choice.
However, going with a reputable brand increases the likelihood that your used golf cart will be reliable over the long run.
Age
Your electric cart's age is crucial. Another key factor is the battery's age.
Even the finest battery cannot match the durability of a golf cart's body.
Before buying a used cart, make sure to verify its age and take that into account when calculating the sale price.
Be cautious not to overspend on the cart if the battery is in need of replacement.
Seller
Do you intend to visit a dealership? Or have you thought about selling privately?
In either case, make sure the used cart is inspected by a dependable third party mechanic before you write that check.
Carts are frequently "refurbished" by dealers.
However, be wary of putting too much faith in that word.
To "refurbish" means to renovate and brighten.
This doesn't always mean fix problems.  Additionally, it's not always a sign of a great cart.
The ideal golf cart for you may not be the one the seller claims is restored.
Before pulling the trigger, inspect the used cart from top to bottom.
Take a drive, inspect the tires, and ask plenty of questions regarding the cart's history.
Market Cost
Verify that the used asking price is fair for the market.
Try to figure in depreciation along with an eye test of the cart.
But by doing some comparison shopping, you might save some money or steer clear of a bad deal on a "lemon" cart.
When it comes to old golf carts, there are no "lemon" rules.
Spend some time looking around for carts in your price range with similar cart options, the brand, and the year the cart was manufactured.
Enjoy Your Options for Used Electric Golf Carts
You might be able to find the golf cart of your dreams by selecting from used electric models.
Get one with the desired accessories, then do your homework to find the best price from a dependable dealer.
Remember' new is not always better!
When you consider all of the benefits, used golf carts can often be the best choice.
Fairway Golf Car Mobile Services is proud to be a certified used golf cart dealer.  Call us today at 352-571-3100 or contact us here.
Read The Top 10 Considerations When Buying A Used Golf Cart.